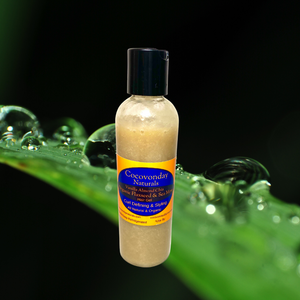 Cocovonday Naturals
Vanilla Almond Chia Organic Flaxseed & Sea Moss Hair Gel 6oz
Regular price
$29.99
$0.00
***REFRIDGERATED PRODUCT***

This Flaxseed & Sea Moss hair gel is like liquid gold! This 2 in 1 hair gel is for both styling and curl defining. It's handcrafted in small batches using organic flaxseeds, organic sea moss powder and high-quality essential oils. It moisturizes, conditions, it's non-drying and gives your hair and curls a soft firm luscious hold with a healthy shine. Great for wash & goes, twist & braid outs and slick down ponytails. The hair and health benefits of flaxseed and sea moss is endless!
For All Hair Types and Styles:
Natural Hair
Relaxed Hair
Curly Hair
Straight Hair
Dry Hair
Locs (Dread Locs)
Braids & Twists
Women
Children
Men
DIRECTIONS: Apply to wet/damp hair to define curls and twist or braid outs. Apply to wet had or wash & goes or dry hair for firm soft slick downs/ponytails. Apply small amount to edges for edge control. Moisturizers, conditions, adds shine. No flaking or sticky residue.
This product is made to order and may take 5-7 days to make after purchase.
6 oz bottle

INGREDIENTS: Distilled water, Organic Flaxseed, Organic Sea Moss, Organic Marshmallow Root,Jojoba Oil, Sweet Almond Oil, Chia Oil, Avocado Oil, Vit E Oil, Natural Vanilla Fragrance, Natural Preservative 
*External Use Only. If irritation occurs discontinue use.
*Keep Refrigerated. Due to natural ingredients this product is perishable and must be refrigerated upon receipt to insure freshness. Use by date on bottle or freeze what's not being used for up to 4 months.  
---
More from this collection